Lux recently celebrated 75 years of their brand.They wanted to make it special so they roped in Sharukh Khan to do a commercial for them.Well,he is the second male model for Lux.Paul Newman being the first one!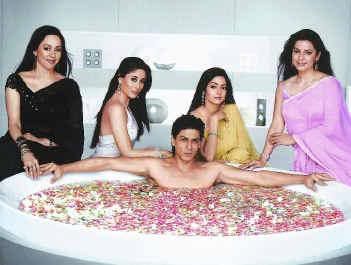 SRK with Hema Malini(1970's),Sridevi(1980's),Juhi Chawla(1990's),Kareena! ............Through the ages!!!
The recent most commercial with SRK,done by J Walter Thompson,in which Khan talks about "beauty secrets" sitting in a bath-tub with petals.I can understand that HLL wanted to do something really different.But why a male model?? Is it some kind of a MS thing???....!!!! The best part is,he doesn't use the soap in the ad.Which makes the ad very different???!!!!???
About the history,the word Lux was derived from 'LUXURY'.There had been a number of stars who have modeled for Lux.The first Indian model was Leela Chitnis.And then comes the host of stars like Hema Malini,Sridevi,Juhi Chawla,Kareena and....... so on.
The interesting fact is, a star from South-India too has modeled for Lux! It's none other than Jayalalithaa!!!