My movie for the day was -
Spring ,Summer,Fall,Winter and Spring
- a Korean movie.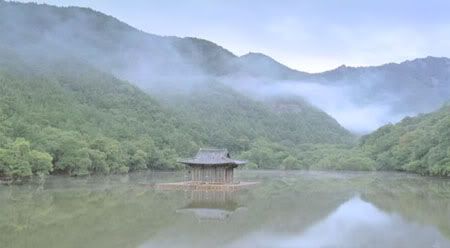 A very beautifully made movie!
The movie starts by showing a gate.Well, its not exactly a gate but its more of a main door to a house.The door opens to reveal a house in the middle of an undisturbed lake.The architecture of the house is highly simple and it is entirely made of wood.A Buddhist Monk and a kid live there.
Their day starts with worshipping a statue of Buddha.The statue of Buddha is in the center of the house and on either side of it is a room with no walls. They just have doors.This reveals the 'Self Control' part of a human.This might sound absurd here, but the movie should be defintely seen to understand the hidden philosophy in each frame.
The movie goes onto show us how a man evolves across the seasons. It talks about CHANGE in the most beautiful manner.Well, we have all read about evolution, that's more like giving a physical view to it. But this movie talks about the mind and its orientation.
The desires,the seeking,the yearning,the decisions,the impulse,the thoughts,the anger,the learnings - each one of them is an epic. Ki-duk Kim has done a brilliant job by capturing all of these.
The beauty of the movie is, none of the character have names! And about the rating - I would call it a 'Must Watch'.