I watched a movie called "12 Angry Men".What a movie!!!Awesome Movie.The story line was very simple.The movie was directed really well and every frame of it,made sense and was very logical.A Henry Fonda starrer.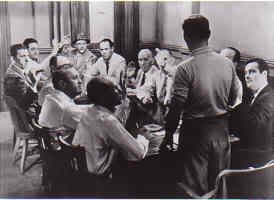 The best part of the movie is,its shot in a single room.Throughout the course of the movie,it can't be realised.But in the end,when all the 12 men leave the room, the final glimpse of Fonda will suggest that the "whole thing" happened inside a room.
And U might wonder that there's no mention about the 11 men of the movie.As one of the members of the jury says, I don't remember the other people who acted in the movie", for which Fonda replies where
"I'm sure you were'nt under any emotional stress"
..........for which my reply is also
'YES'!