Hooooraaay!!Atlaast played a game of Pool today.Found the game really interesting,and it involved lots of concentration.And to top it all,it was FUN.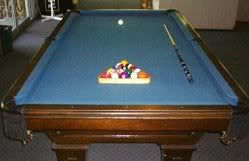 Pool Table
Basically games like Pool,Snooker, all these belong to the Billiards Family.And the game of Pool,was initially played as as off-track game,in the race courses.This is because lots of money was "pooled" in.Hence the name Pool.
The stick with which the game is played is called the cue stick.About the balls,there is one white ball called the cue ball,and the rest are the object balls.In the object balls,there are two sets,solid colored and striped ones.The angle at which the cue stick is held and the player's posture counts a lot.Believe me! This is what I learnt.Thanks to Buffy-buffy,Dipsy and Spidey!