This article is not about the musical band but a Hindu Sage called Narada.More popularly known as Kalahapriya, Kalaham meaning fight.He loves starting fights between people.Hence the phrase "naradar velai"!
Did you know that,Narada is a very great musician???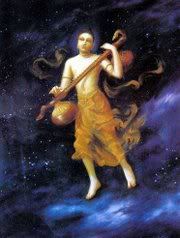 As the legend goes,Saint Thyagaraja was blessed by Narada.And he even composed a krithi called "Narada Muni" in praise of Narada. For those who have attended atleast one Carnatic Kutcheri, you would have noticed the musicians singing raagam.Not so ardent listeners would term it as-"Tha ra na".Its nothing but a dedication to the Greatest Musician "Narada".indicating the syllables in his name.
That's why instead of singing a raagam in terms of "aa" (which of course they do) but its mostly "tha-ra-na"!